Taking the '80s beyond :: The Wavos are an original '80s-new-wave/cover band. Don't miss their next wave-o dance party! Stay tuned...
HUGE THANKS to everyone who came out for our October dance party in New York City, your support means the world! Stay tuned to our shows page!
The new EP, Five on the Floor!, features our first three original songs since Cinco de Wavo! You can help get our counts up by playing them on Spotify, Apple Music / iTunes, YouTube Music, and Amazon Music. (We weren't able to include our favorite mashup on the EP, but you can listen to it here.)
Check out our Wavos At Home series on YouTube! Watch anytime on our YouTube channel, including archival footage from our early days as The Privates: youtube.com/jagosmusic <= please subscribe, and leave comments if you like!
THE WAVOS PLAY PRIVATE PARTIES & EVENTS FROM HOUSE PARTIES TO ARENAS! HIT THE BOOK THE WAVOS! BUTTON AND EMAIL US!
Here's what else is happening in Wavoland:
1) 26 Live Clips from recent shows
2) State Theatre 11/4/17
3) State Theatre 11/4/17
4) State Theatre 11/4/17
5) State Theatre 11/4/17
6) Our song "Chit Chat" is featured in the 2015 horror film The Barn: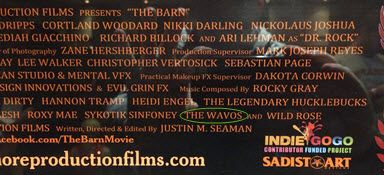 7) A video taste of our ever-popular, four-hours-of-fun '80s "new wave-o" dance party:
8) A WAVO HELLO & SALUTE!